We wouldn't be a New England inn without a charming holiday tour of Vermont's best, now would we? Each year, innkeepers throughout the Okemo Valley collaborate to create a unique opportunity to visit a series of inns to see their holiday decoration, enjoy a meal, and then move on to your next destination. It's like wine tasting, but for Vermont Inns!
Our Spot on the Inndulgence Tour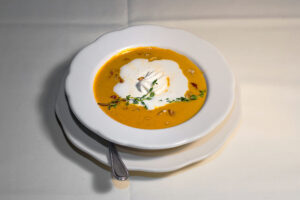 The Inndulgence tour can be a bit of a choose your own adventure. You'll be welcomed to our historic inn in Ludlow, Vermont with all the bells and whistles. From the glittering white snow outside, to our antique winter sleigh on the front porch, to the tall colonial exterior, we promise to provide everything your winter dreams hope for.
This year, we will be serving tow soups. Turkey Andouille Sausage Gumbo with Rice and Winter Butternut Apple Bisque will be on the menu for our Inndulgence Tour guests! We'll welcome you in, warm you up, and when you're ready we will send you on your way to the next inn on your tour.
A Word From Past Inndulgence Tour Travelers
"This was such an iconic Vermont Inn tour! The beautifully decorated inns, delicious tastings, picturesque drives through the countryside and dustings of snow made it so perfect. We met many friendly people and learned about some local history. Looking forward to this year's tour!" -Lisa S.
"Was just plain awesome last year. This will be my 3rd year. Can not wait! This is such a great event." -Christine C.
"Enjoyed a wonderful Saturday afternoon inn hopping at the Okemo Valley Inndulgence Tour! We visited 8 out of 10 local inns sampling delicious soups to sweet desserts while catching a glimpse of the beautiful accommodations that they offer." -Ed H.
"What a wonderful event! Every host was very welcoming and the food was delicious. I loved seeing the inside of these various inns. I think I could have curled up with a book in every location." -Penny T.
"Sooooo much fun visiting all these unique and interesting Inns. First time in Vermont and I will always cherish and remember the Indulgence Tour as a warm welcome to Vermont!!!" -Rachel S.
Inndulgence Tour 2019
This year, the indulgence tour will take place on December 7-8 and our soups are available for Inndulgense guests from 12pm-5pm on Saturday so feel free to go at your own pace. If you purchase your ticket before Thanksgiving, it only cost $15 per person to get your passport into every inn and every piece of the meal we have to offer! Just give us a call and we can set you up. If you are planning to stay the night, let us know and we would be happy to host you before, during, or after the Inndulgence Tour! Cheers to a phenomenal winter season filled with holiday cheer.