Vermont's Best Restaurant:
ECHO LAKE INN SERVING DELICIOUS FOOD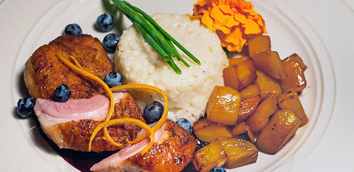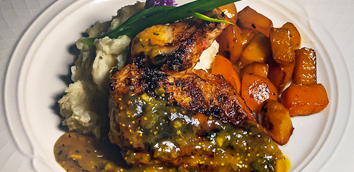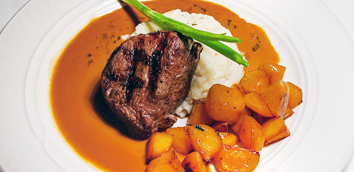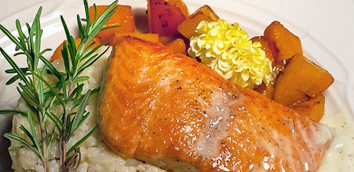 Winter Season 2022 - 2023
Grilled Native Venison Medallion
Served with a blueberry, apple, and sweet potato hash, encircled with a blueberry Merlot reduction
French Onion Soup
Rich beef demi-glace reduction with a touch of cognac. Topped with a blend of Swiss Gruyere and Vermont Cheddar cheese melted over a garlic butter crostino
Stuffed Mushroom Duet
Marinated mushroom caps stuffed with Vermont sausage and cheeses. Served on a bed of greens and finished with a juniper, blackberry, red wine reduction
Winter Salad
Mixed greens, sun-dried apples, pears, cranberries, and shaved Pecorino cheeses, topped with toasted walnuts, hazelnuts, and pecans. Tossed in a balsamic maple vinaigrette
Caesar Salad
Crisp lettuce hearts topped with our classic house dressing, seasoned parmesan croutons, and topped with freshly shaved Grana Padano cheese
Selections from our dessert tray
Vermont's Wilcox Dairy Ice cream
Automatic gratuity of 20% added to tables of 6 or more. Consuming raw or undercooked meats, poultry, seafood, shellfish or eggs may increase your risk of food borne illness, especially if you have certain medical condition.
Four Cheese Ravioli
In a red arrabbiata sauce with Pecorino Reggiano, Vermont Cheddar cheese, Andouille sausage, and Atlantic white shrimp. Finished with white wine, heavy cream, and red pepper flakes
Farm Raised Pan-Seared Boneless Breast of Chicken
Dusted with a house rub of coriander, smoked chipotle pepper, and brown sugar. Topped with a pomegranate and orange port wine reduction
Pan-Seared Atlantic Salmon
Fresh dragon-fruit, mango, ginger reduction with a touch of fresh herbs and lemon zest
Roasted Maple Leaf Farm Duck
Crispy oven roasted boneless breast of White Peking duck served with today's sauce
Grilled Twelve Ounce Center Cut Pork Chop
Dusted with an in-house rub of nutmeg, cinnamon, and other fine spices. Topped with a Jack Daniel's Cider Bourbon and honey reduction with autumn apples and a touch of whole grain mustard
Center Cut Eight Ounce Filet Mignon
Topped with a Mad River Bourbon, green peppercorn, wild mushrooms demi reduction with a touch of local sweet butter and cream. Served on a bed of sweet potatoes topped with fried golden beets and apples